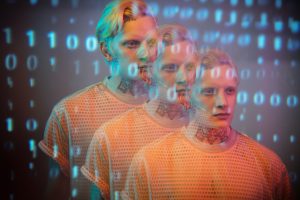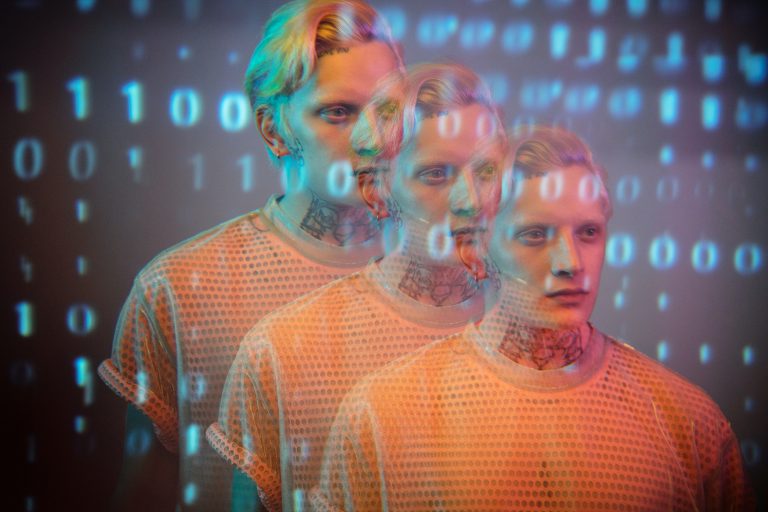 The global COVID-19 pandemic has forced organizations to rapidly adopt virtual work environments, making it the new norm in the Digital Transformation process.  Digital Collaboration Platforms have been pivotal in the current scenario and have forever changed the work environment to include Virtual Work and Digital Facilitation.
Digital Collaboration Platforms provide a combination of activities in one place, making meetings almost trouble-free.  These platforms take leverage of tools to help perform activities, such as:
Create agendas and conduct pre-engagement communication
Documentation and note-taking
File storage and documents sharing (videos, images)
Administer surveys / polls
Chat with facilitator-specific features (anonymize, voting, hide comments)
Conduct assignments and exams
Booking system and timer
Post-engagement discussions and follow-up tasks
However, Digital Facilitation has its own set of challenges, principles, and methods that are to be managed for the future work environment to run smoothly.  Digital Facilitation Methods vary from simple to very complex and there is an abundance of them.  The following 3 methods are quite popular in facilitating asynchronous and synchronous Digital Collaboration:
Double Diamond
Open Space
Sociocracy 3.0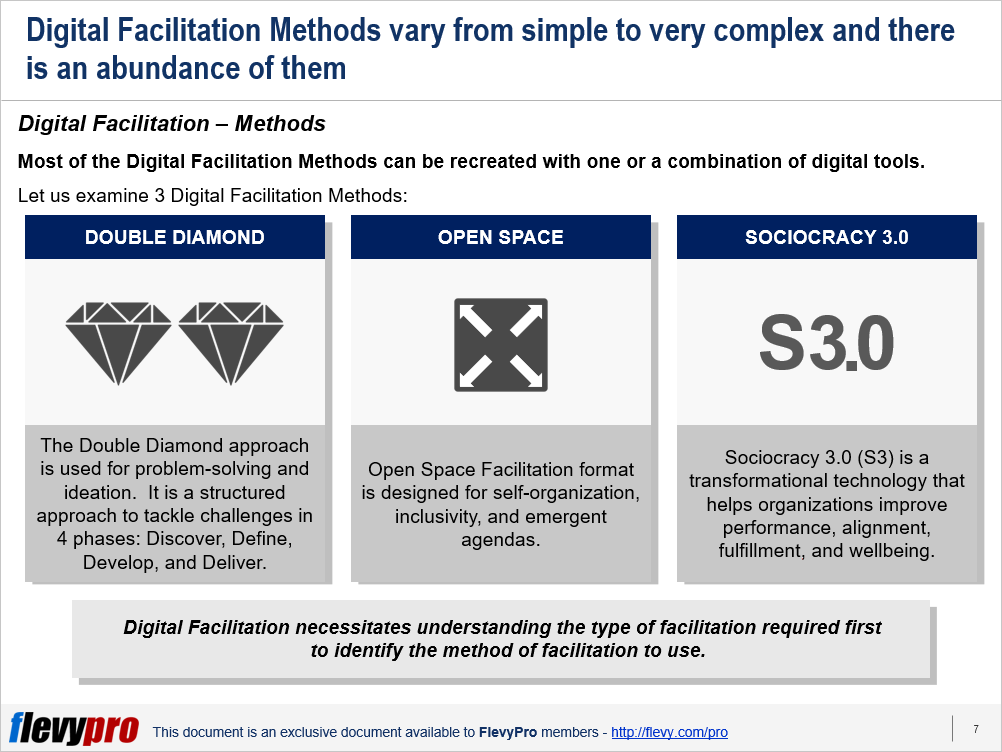 Let us examine the 3 Digital Facilitation Methods moref deeply.
Double Diamond
It is a structured method to Digital Facilitation that is useful in problem solving and idea generation.  The method tackles challenges in 4 key phases—Discover, Define, Develop, and Deliver.  The Double Diamond method employs the divergent thinking first—to open up the participants to share as much as possible without limiting ideas.  The method then utilizes convergent thinking to focus on narrowing down the problems, finding potential solutions to the problem, and implementing the most viable solution(s).
Potential solutions and ideas can be prioritized and filtered using Digital Collaboration Platforms' features, i.e., polls, likes, or assigning scores.  All project phases can be documented on the go, in a single Digital Facilitation workspace and the same workspace can be used to continue the delivery phase.
Open Space
The Open Space Digital Facilitation method is designed for self-organization, inclusivity, and emergent agendas.  The method focuses on finding important elements through discussions facilitated by Digital Collaboration Platforms in order to improve further.  The Open Space method is governed by the "Law of Two Feet," which states that if at any time you find yourself in a situation where you are neither learning nor contributing, use your two feet and go somewhere else where you can.
In this method, a collaboration session starts without an agenda, but the process is designed to ensure that the issues that are most important to the people involved will surface and become part of the agenda.  This is done by inviting participants to propose topics as chat comments utilizing Digital Facilitation Platforms.  Other participants 'like' a comment (topic) to show their interest or prioritize by using voting or polling features.  The facilitator then organizes the topics by likes or votes and decide how many topics will be covered in a given session.  A loose agenda is then created and host of each topic is assigned.  Booking feature of the Digital Facilitation Platforms can be utilized for choosing which topic participants will start with.  A separate page within a Digital Facilitation Platform workspace can be dedicated to each topic, to document everything and add instructions, videos, or any other files.  Video conferencing tool of the Platform can be used side-by-side.
Sociocracy 3.0
This Digital Facilitation method goes a step further in problem-solving than other approaches.  As the name suggest, Sociocracy 3.0 method puts everyone really behind an idea and necessitates consent of all the participants for it to work.
Interested in learning more about Sociocracy 3.0 and the other Digital Facilitation Methods and Digital Collaboration tools?  You can download an editable PowerPoint on Digital Facilitation Methods here on the Flevy documents marketplace.
Do You Find Value in This Framework?
You can download in-depth presentations on this and hundreds of similar business frameworks from the FlevyPro Library.  FlevyPro is trusted and utilized by 1000s of management consultants and corporate executives. Here's what some have to say:
"My FlevyPro subscription provides me with the most popular frameworks and decks in demand in today's market. They not only augment my existing consulting and coaching offerings and delivery, but also keep me abreast of the latest trends, inspire new products and service offerings for my practice, and educate me in a fraction of the time and money of other solutions. I strongly recommend FlevyPro to any consultant serious about success."

– Bill Branson, Founder at Strategic Business Architects
"As a niche strategic consulting firm, Flevy and FlevyPro frameworks and documents are an on-going reference to help us structure our findings and recommendations to our clients as well as improve their clarity, strength, and visual power. For us, it is an invaluable resource to increase our impact and value."

– David Coloma, Consulting Area Manager at Cynertia Consulting
"FlevyPro has been a brilliant resource for me, as an independent growth consultant, to access a vast knowledge bank of presentations to support my work with clients. In terms of RoI, the value I received from the very first presentation I downloaded paid for my subscription many times over! The quality of the decks available allows me to punch way above my weight – it's like having the resources of a Big 4 consultancy at your fingertips at a microscopic fraction of the overhead."

– Roderick Cameron, Founding Partner at SGFE Ltd